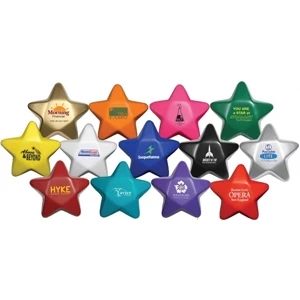 Boost productivity by squeezing away stress with this star shaped stress reliever. What could be better than soft, pliable polyfoam? These stars each measure 3 1/4″ diameter x 1 1/4″. Safety tested and intended for adults or for general use by consumers of all ages. Not intended for children under 3 years old or for pets.
Star Stress Toy LGS- ST06
Specifications:

One of the most popular promotional item, stress toys such as this star will help you squeeze your stress away!

Size:

3 ¼"(diameter) x 1 ¼"

Imprint Area: 1 1/8" circle

Product Color: Black, blue, gold, green, orange, pink, red, silver, white, yellow

Imprint Color: White, black, cool gray, yellow, burgundy, light green, violet, reflex blue, yellow gold, brown, dark green, navy, process blue, orange, light brown, teal, royal blue, metallic gold, red, pink, purple, blue, metallic silver

Setup Charge: $50.00

Layout & Design: $50.00*

Shipping Weight: 25lbs/450

Price Includes:

1 Color Imprint**

1 Imprint Locations**

Digital Proof

FOB Gardner

Shipping Additional

(Price Per Piece)

| | | | |
| --- | --- | --- | --- |
| 150 | 250 | 500 | 1000 |
| $1.30 | $1.20 | $1.12 | $1.05 |

Terms:

50% Deposit. Balance due upon delivery. Most printed items are printed per "Standard Trade Practice", meaning 10% over/under and billed accordingly.

*This quote accounts for a half hour design/layout time. Additional design time will be billed at our Standard Hourly Rate of $100/hr.

**For additional imprint color(s) add $.20 per piece per color and an additional setup charge of $50.00 per color.
NOTE: Prices are subject to change.